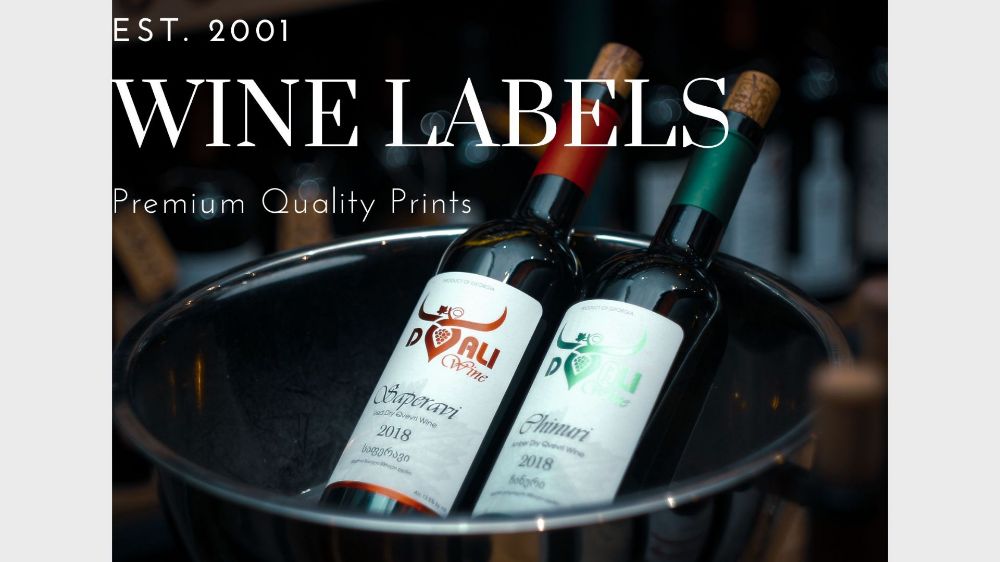 Running a business is hard work. Competing in an ever-evolving landscape of marketing techniques and creative approaches to the same products can be draining, but with the right strategies you can gain an edge on your competition. In today's world, custom printed wine labels are becoming an increasingly popular way for businesses to stand out from the competition and increase recognition in their industry. Whether it's for branding purposes or simply to give customers something unique and memorable, companies are using them to make great impressions. In this blog post, we'll explore five reasons why businesses today are increasingly turning towards custom printed wine labels as part of their promotional strategies.
1. A great marketing tool
One effective way to attract attention is through custom printed wine labels as these can provide businesses with great visibility, both in face-to-face networking situations and online. While it may seem like an unconventional marketing tool, custom wine labels can be an effective and creative way to get your brand seen. They are an eye-catching addition to any bottle of wine and turn a gift or casual evening into a conversation starter. Whether the business is sending a bottle as a thank you to potential clients or have them out at events, the branded labels will generate interest and introduce people to the company in a unique way. Plus, the business can get even more mileage out of its branding by including a special offer or discount code right on the label.
2. Show appreciation for the customers
A bottle of wine with customized label can be used as thank-you gifts for loyal customers or as part of a loyalty program.
Customized wine labels are a great way to show your customers appreciation - whether it's to say thank you for their loyalty or as part of a loyalty program, these elegant labels make gifting an enjoyable and special experience. It is sure to bring about a heart-warming feeling. These labels are also flexible - they can be used for any occasion and will always be memorable. Not only will customers benefit from such thoughtful gifts, but businesses can benefit too as customers look forward to doing business with them due to the recognition they received.
3. They add an elegant touch to any event
Whether the company is hosting a formal dinner party or casual get-together, custom wine labels will give the event that extra bit of sophistication.
They are a simple yet impactful way to add an element of elegance to any event. From intimate dinner parties to large corporate gatherings, custom wine labels can instantly up the style of the event decor. Wine connoisseurs will appreciate an extra special touch for their collection, and party hosts have the freedom to select a design that works with their theme or expresses a heartfelt message. Guests will be impressed by the additional effort the hosts
have put into giving them a unique experience and be able to take their bottles home as a stylish souvenir.
4. They're great for fundraising events
Auctioning off bottles of wine with unique custom labels is a great way to raise money for your favorite charity or cause.
Custom printed wine labels are an excellent way to raise extra funds for your cause. Bottles of wine with custom labels give a unique and special touch that you can't find anywhere else. The recipient won't just love the fine wine they're getting, but also get to be part of contributing to the favorite charity or cause. It's a win-win situation: what the business gains from the auction is something special and memorable, not to mention that any money raised will go toward something really important. Plus, it's also a great way to show appreciation for supporters who have helped the business' mission along the way. All in all, auctioning off bottles of wine with custom labels is an incredibly effective approach to fundraising events.
5. Wonderful keepsakes
Personalized wine labels are the perfect way to commemorate a special occasion, such as a wedding or anniversary.
They create something truly unique and memorable that anyone can cherish forever. Personalized wine labels can feature photos, logos, special dates or quotes, personalized messages, and more. They are an unforgettable keepsake that will last long after special occasion has come and gone.
In addition to these benefits, investing in custom printed wine labels is much more cost-effective than traditional marketing methods such as radio, television, or print ads because it does not require large investments in production costs or media placement fees like those associated with traditional advertising methods do. In addition, printing costs for customized wine labels can be significantly lower than traditional printing costs due to advances in technology that have made digital printing possible at an affordable price point for small businesses and entrepreneurs alike.
To sum it up
There are many reasons to consider using custom wine labels for any business. They can help create a unique brand identity, connect with the customers on a personal level, and increase sales. For anyone who is looking for an effective way to stand out from the competition, custom wine labels may be the answer.