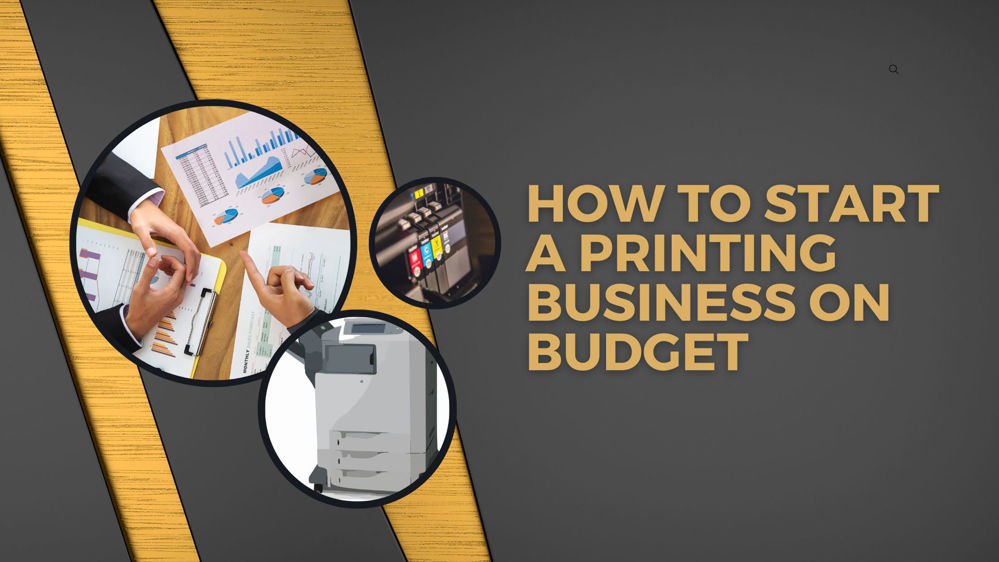 When it comes to starting your own business, there are a lot of options to consider. One option that is often overlooked is starting your own print shop. Printing services are in high demand, and with the right planning, it can be a successful business in this industry. In this post, we'll discuss the ways how to start a printing business with minimal startup cost and what type of business can the most benefit from opening a printing shop. So whether you're thinking of starting your own print shop or just want to learn more about this industry, keep reading! 
The printing industry is a dynamic market that has seen incredible growth in 2022 in comparison with last year. It's hard to believe that in this digitalized world, where everything seems possible and accessible with just one click of the mouse or a tap on the screen. Yet there are still printing materials that have a vital role to play in our lives. The market for this type of goods continues its impressive expansion with more people buying them each day.   
Wholesale printing services for resellers
It is easy to start a print shop with wholesale printing services for resellers.  
But what, exactly, is resale printing? In simple terms, it is the process of printing bulk orders at wholesale prices, resellers can save money on their own printing costs while markup up the price to earn a profit.  
There are many advantages of being a reseller: 
Small businesses have the opportunity to offer their clients high-quality products at competitive prices for a vast market. 
Minimal startup costs.  

The inventory, storage, and shipping of the printed products are taken care of by the print providers. This means that print shops can focus on other aspects like customer service or marketing for this business model. 

The opportunity to print logos and brands on anything more than business cards or postcards.  

Access to large-format printers such as those needed for banner advertisements or signs advertising that may be costlier and harder for smaller firms or individuals to own in their facility.  

When the goal is to outdo the competition, it's always best to go with the big dogs.  
Diversity of printing products from door hangers and coasters to printed cookies. Connecting with wholesale printers will help provide custom printing services that smaller companies just don't have in stock. 

No need to deal with the hassles of running your own printing business when there's a professional wholesale service that will take care of it all.  

Trade printer names usually are not seen on the products. This is a great way to set a new brand name on the market.  

The only investment is time and effort. 
Who benefits from opening a printing business?
Partnering with trade printers can make more money by offering additional services other than just design.  
As an example, designers who work for a spa salon should only be compensated with design services. However, if they are already partnering with a printing company then there is an opportunity of offering additional services such as printing flyers, business cards, memberships cards, calendars, and even printed apparel.  
That extends the services to the existing clients instead of searching for a new ones.  
Marketing and small businesses are always on the lookout for new ways to get their products and services in front of customers. Instead of just offering only digital services, advertising agencies also can provide print media.   
Professional photography is not just about taking amazing photos, it's also crucial to be able to showcase them by printing them in a form that will be appreciated. Wholesale printing services allow photographers to share their work in form of posters, canvas prints, and postcards. Offering gallery-quality prints will increase income for photographers because they'll sell more merchandise based on these high-quality displays alone.  
Promotional product distribution companies
When it comes to promotional products, there is no better way than having them printed in bulk. With wholesale printing services, these companies can save money on the entire print catalog. 
Printed artworks are the best option for artists looking to get their work into new markets without having any upfront costs.  
The trend of custom-made items is continuing to rise, and with their popularity, there are more creative possibilities than ever before. Not only can artists make their own custom-made products like coasters, stickers, magnets but also card games. Plus with the print services for resellers they can purchase large quantities of prints at a discounted price, which is then can be sold through social media channels or on popular marketplaces such as Itsy or Amazon. 
They often need access to larger-format printers. The best way of getting this sort of equipment is by purchasing wholesale services from a company that specializes in it, without having spent money upfront or dealing with distribution and packing and shipping costs themselves. And provide a wide range of products and services that will meet any need, no matter how big or small.  
How to be a printing reseller
Anyone can be a part of the print reseller program either with an existing business or without. 
The only thing is to find a good trade print provider. 
It's easy to get lost in the sea of printing companies and opportunities and connect with a reputable company that offers great quality, and reliability but also has low prices.  
Rentapress (as we call it RAP) is a trustworthy global trade print provider offering an extensive and exclusive print reseller program that includes a reseller certificate for a tax-free product purchasing for resale.  
The reseller program extends an opportunity for small business owners in this dynamic industry to break through their competition with our cutting-edge services, saving them time from going outsourcing or expensively purchasing inventory themselves. 
 By partnering with a trade print provider like RAP, anyone can take advantage of exclusive discounts and benefits that can help save money while getting the prints that the business needs for any type and size project. 
RAP print catalog is constantly updated with new print items. So there's always something fresh on our shelves. Plus our clients can enjoy excellent customer service throughout the process as well as quick turnaround times on orders.  
Moreover, any design can be easily created in our online design builder or uploaded a ready one. This makes it easy for resellers to create custom designs that their customers will love. In addition, wholesale printing providers often offer discounts for larger orders, making it even more profitable for resellers to do business.  
Needless to say, QR codes have become an essential tool for businesses large and small. Not only do they provide a quick and easy way to share information, but they also offer a high degree of customization. With RAP's free QR code generator, anyone can create unique codes that redirect to the website, social media page, or even a specific product or service that can be printed on any promotional materials. Plus, our QR codes are compatible with all major smartphones and scanners. So whether your customers are scanning with their iPhone or Android device, they'll be able to quickly and easily access any provided information. 
The RAP Print Reseller Program is a revolutionary way to get any business off the ground without spending too much money in this fast-paced industry.  
RAP wholesale printing services offer incredible value for businesses of all sizes.  Contact us today to learn more about how RAP can help jumpstart a print shop or grow the business through print.  
Are there any other companies out there that we didn't mention who could benefit from the print reseller program?