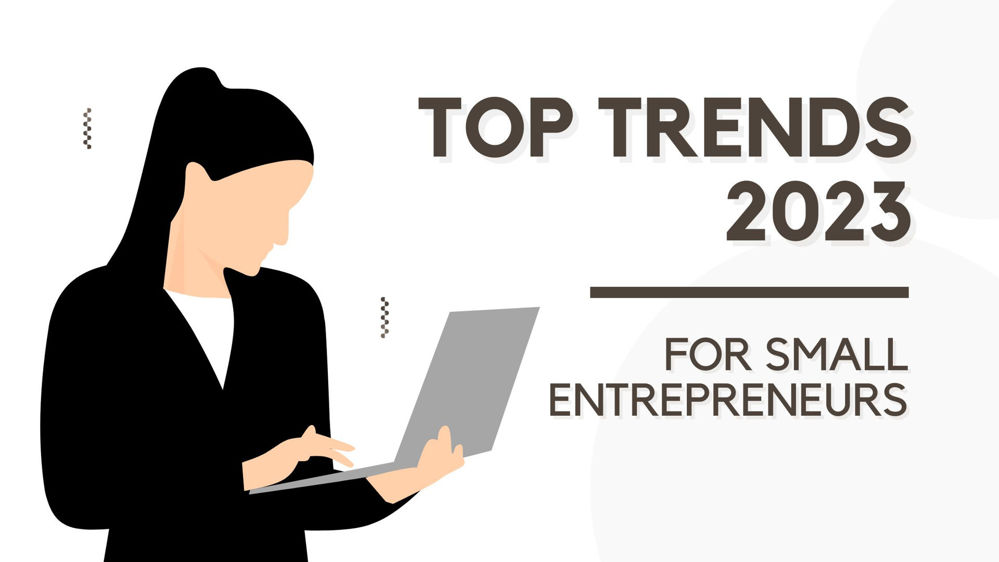 The beginning of 2022 was so bright for businesses both small and large.  
The world economy finally found itself on the upswing after a lengthy pandemic. Businesses all over were enjoying this newfound stability but the Russian invasions in Ukraine has created a challenging environment for the future months to come. 
Despite all these troubles though it seems like the small business market is still evolving at an increasingly rapid pace. Whether you are just starting out, or you have been running your business for a few years, it is always good to stay ahead of the curve. So, without further ado, here are key trends that we think will continue to be big in the next few years and will help shape small businesses in 2022.  
More people will be starting their own businesses
As the world becomes more digital, it is no surprise that there will be a surge in people starting their own businesses in the next decade. The number of businesses started each year is increasing. So, what is driving this trend? Reasons for starting a business include
 - the desire for more control over one's life, 
 - dissatisfaction with their corporate job,
 - wanting to be one's own boss. 
 There are several reasons behind this shift, from the desire for greater flexibility, control over one's work-life balance, and the increase in technology that has made it easier than ever to work remotely.
Whatever the motivation, it looks like more people are deciding to take matters into their own hands and start their own businesses. 
As a small business owner, it is important to understand the popular directions and how they might impact your business. For example, you may need to adapt your marketing strategy to reach a mobile workforce or consider new ways of collaboration. 
Technology will continue to play a significant role in business, so it is important to stay up to date on the latest advancements and how they can be used to improve your operations. 
The prolife

ration of AI and machine learning technologies. 
As businesses strive to become more efficient and productive, many are turning in the direction of artificial intelligence (AI) to automate certain tasks that used to require human input. This shift is due to the increasing availability and affordability of AI tools.  
There is a growing trend of businesses using AI-powered chatbots to facilitate customer interactions, and many others are using AI algorithms to personalize their marketing content. As businesses start to become more comfortable with AI, they will begin to automate simple tasks that used to take up valuable time. This shift will free up employees to focus on higher-level tasks and strategic initiatives. The future of business lies in the hands of those who can harness the power of AI. 
Chatbots are increasing in popular

ity for customer service and support
And for good reason. They are efficient, effective, and can handle a high volume of queries.  
They can quickly answer frequent questions, escalate issues when needed, and free up your time so you can focus on more important tasks.
Today's market offers many omnichannel and multilingual scalable AI-empowered chatbot tools to implement in any business.  
Social media will continue to be an important marketing tool for small businesses
Social Media is a quick and affordable way to connect with customers and build relationships with them. You can also use social media to share your latest news, promotions, and get feedback. In addition, social media can help build brand awareness and reach a wider audience. Using it in an appropriate manner such as posting content that is relevant to their customers, participating in conversations, and responding to comments and questions from customers can help to achieve all the marketing goals for a small business. 
Social media should be a key component of the overall marketing plan. But it should be used in the right way, and targeted the right audience. Otherwise, you may not see the results you are hoping for. 
Sustainable practices as the way of using renewable energy sources. 
As an entrepreneur, you might be wondering how this relates to your business. Small businesses can benefit from sustainable practices. Sustainable marketing means you are promoting environmentally conscious products and practices. By buying your product people will know that they leave a positive impact on the environment. 
A fitting example of this type of thing can be found with Nike whose "Just Do It" slogan comes from its founder who wanted Americans to exercise not only physically but also mentally so that they were happier individuals as well as healthier family members. 
As an entrepreneur, it is important to understand what your customers are experiencing. Whether they are encountering you for the first time or have been a loyal customer of yours. Keep them coming back by knowing how they feel and giving that distinctive touch with branded packaging. 
One of the simplest ways to create a positive customer experience is by wrapping your products in custom tissue paper or branded gift bags. Plus, it will ensure that the products not only arrive safely put wrapped safely in a stylish manner.  
In today's competitive world, creating a strong company brand can be the key to success.  
Your brand is what people say about you when you are not in the room. It is how your business is perceived by others, and it is an important part of professional identity.  
It is not enough to create a useful product or service—you need to create a brand that customers can trust and connect with.  
As marketing becomes more digital and personalized, companies are still trying to attract more attention to the brand in everyday life. The easiest way to strengthen the brand is by printing wholesale notepads, magnets, stickers, labels, printing gift cards, and/or bumper stickers. They are all perfect for a boost for the brand in a fun and unique way. So, people learn about what goes on inside before they buy. 
The next few years look to be an interesting time for small businesses. While we cannot predict the future, entrepreneurs will need to keep up with evolving technology and changes in customer behaviour. At Rent-a-press, we are committed to helping small businesses succeed. If you are looking for a way to jumpstart your marketing efforts, consider our wholesale marketing prints. We offer high-quality products that can help anyone reach their target audience and grow their business.  
Are there any more trends we have missed in this blog post? Let us know in the comments below.